Modular Mind / Ten Thousand Things by Edmund de Waal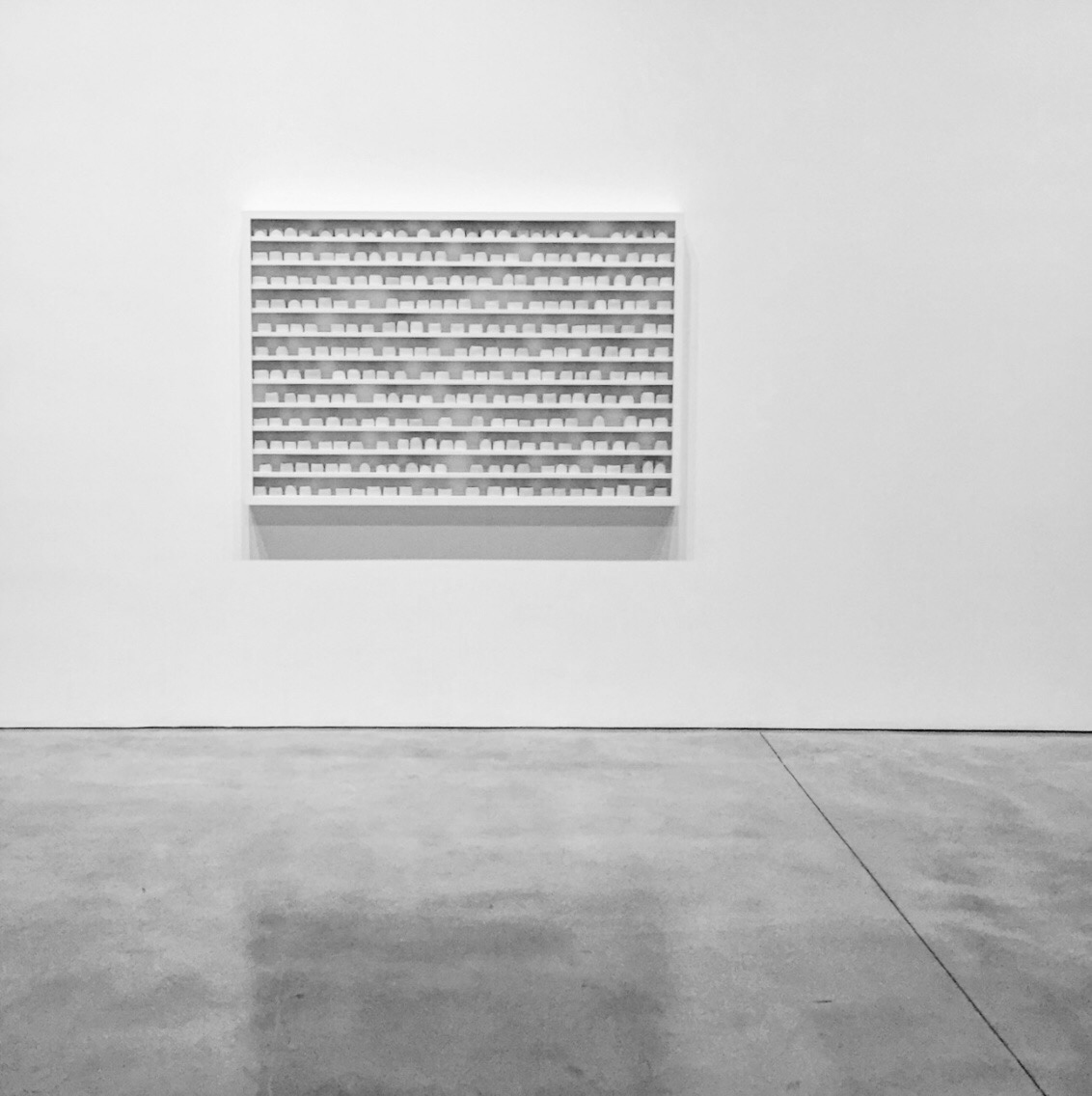 "It is about what it means to belong in one place at one time"

- Edmund de Waal
Poetry of Paul Celan and musical compositions by John Cage were both pioneering pools of inspiration for de Waal's latest ceramic work. Cage's personal accords with Taoism and Chinese modular patterns of thought serves as a basis for de Waal. Endless repetition, indefinite multitudes; the hand-formed vessels serve gracefully to therapeutic processes and zen-like mastery of obsessive repetitive work. We think of Donald Judd because of sequence of form or Serra for uses of dense material to elude to a weightlessness. Feng Shui is not stagnant.
Cream and white-mint. Fingerprint of gold on its lip and coy curves welcoming to palm of the hand. Each vessel is dainty to the extent they ought to be tangible. Great art, great prints, wonderful paintings and sculptures of the smaller scale feel accessible, tactile, on a level our minds and body can intake with ease. Even in large glazed frames of shelves it lacks a deprecation to our egos: "larger than us". We can peer in with a closeness you could count the grains of metallic. But the warmth of openness is barricaded by glass and you
can not
participate actively.
With the vessels rearranged in close quarters of metal and steel cages, I feel less warm with the pieces than I do with those in architectural spaces open to the possibility of my touch. Staggered in balanced alphabet of Morris Code they exist like a mind map. A pattern of DNA or a hieroglyph of de Waal's undercurrent of the subconscious. The art was born into a vacuum and thus adopts a disposition from its confinement. What is the relationship of the restricted vessels with their real estate? Why do
I
feel alone?
We work with being, but non-being is what we use. -Tao te Ching by Lao Tzu

The entirety of the exhibition that oscillates between a confinement of materials, minimalism and staggering of placement, economy of materials and palettes--even with their dichotomizations--is very much a statement, perhaps indirectly, on a western vs eastern headspace. After all, the precious utilization of a cup is its emptiness. And emptiness is openness for solitude. Confine it behind a barrier in a controlled environment and it reiterates the philosophy that architecture is inherently and arguably the most influential medium to our lives.
Edmund de Waal's
Ten Thousand Things
at Gagosian Gallery, Beverly Hills 2016